The Ultimate Guide To Moving House
Campbell & Co in Belfast & Lisburn
23rd August 2022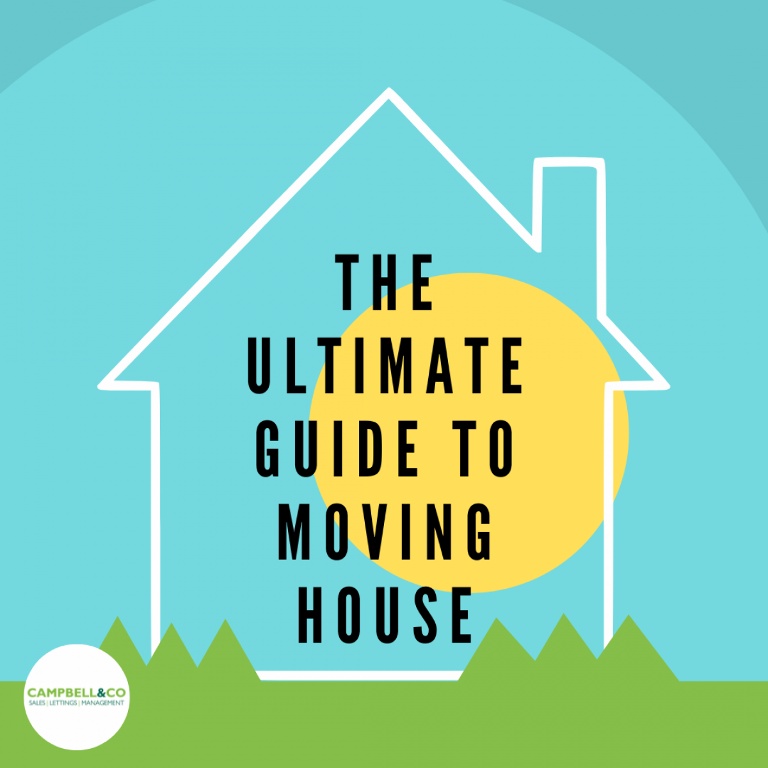 Have you made up your mind and decided it's time for a change of surroundings? Perhaps a new job has encouraged you to relocate or maybe you want to move closer to a city, town, or area of your choice?
The team at Campbell and Co are here to help you find the perfect property, whether you choose to rent or buy, we have something to suit everyone.
As exciting as this step can be, it can also be quite anxiety-inducing. Moving house can be an overwhelming process with so much to handle all at once, from clearing out your current home and tying up loose ends, to packing and preparing to move into your new property. You will also find yourself shopping for necessities your new property may lack or selling things from your old property you no longer have the need to keep.
Below are some tips our team at Campbell and Co have put together to help ensure this process is as smooth and enjoyable as possible:
Confirm A Move In Date To Move Houses
The first thing you'll need to do is to consider the date you plan to move in and confirm this with the landlord, homeowner or letting agent depending on if you are buying or renting the property.
Confirming this will allow the landlord or homeowner to plan when they need to have the property ready for you to move in and take care of tasks such as having the property cleaned or changing the locks.
If you are buying or selling a house, this may take longer than with a rental property as there are legal requirements to be agreed upon before the sale is completed.
Make A List Of The Essentials In Your New House
It's important when moving house that you familiarise yourself with all of the essential elements the property has.
Before buying or renting a new house, we recommend checking with the landlord or homeowner about the following things:
Gas and electricity meters - We recommend checking where these are located in the house and how they run. For example, some electricity meters operate through a card which you top up at your local shop while others are payable quarterly.
Fuse box - Locating this before you move into a new property will help solve any issues with power outages.
Thermostat - We recommend locating this before you move into a new property to ensure you are able to control the heating of your new home.
Declutter And Organise Before Moving House
Once you have decided you're going to be moving house, it's time to start packing up and saying goodbye to your house. We recommend going through your belongings, from clothes and shoes to furniture and possessions you've accumulated over the years and getting rid of anything you won't need in your new house.
The key is to be practical as the more you can clear out at this stage, the less you'll have to unpack and sort out once you have moved into your new property.
This is also a great way to make some money before moving house- you can sell pre-loved items on platforms such as eBay and Gumtree and for clothing, why not try Depop or Vinted to give your clothes a second home?
Pack And Label Your Boxes Before Moving House
Now that you've sorted through your belongings, it's time to pack up in preparation for moving house.
Once everything has been packed into cardboard boxes and sealed, we recommend labelling each box with the name of the room it will be going into or a list of contents inside the box. This will make unpacking much easier as boxes can be left in the room they are intended for during the move and easily identified when unpacking.
We also recommend taking note of any boxes that are heavy, fragile or contain valuable items that should be dealt with caution to ensure these aren't broken or damaged during the move.
Keep All Of Your Essentials Close By
Move-in days can be hectic and tiring for homeowners and tenants alike as you begin to unpack all of your belongings into their new home. Because of this, we recommend you keep some essentials for your first night packed in a separate box that can be easily unpacked and used as and when you need them.
Some of the most commonly needed essentials to keep on hand for the first night are:
A kettle - Hot water will be needed for cleaning purposes as well as a comforting tea or coffee. Because of this, we'd also recommend having some cups as well as tea or coffee on hand
Cleaning products, cloths and sponges
Chargers (for your phone and appliances)
Toiletries (toothbrush and toothpaste, soap, toilet roll, skincare essentials)
Bedding and covers for the first night.
Important documentation such as IDs, contracts etc.
Do A Deep Clean Of Your New Property Before Moving In
Before unpacking all of your belongings into your new home, we recommend doing a deep clean of your new property or hiring a cleaning service to do this before your move-in date. This will take some of the stress out of the moving process and will put your mind at ease that the property has been properly cleaned and is ready to move into.
Move Into Your New Property
Now it's time to move into your new house! We recommend sorting out tasks such as WiFi installation before your move-in date so this will be ready and installed before you're living in the house.
When unpacking, spreading this out across a few days will give you time to properly arrange each room without rushing into this. We advise starting with the rooms that will be occupied the most such as the kitchen, living room and the main bedrooms.
Finally, give yourself a very well-earned rest and take the rest of your first night off to relax and get acquainted with your new house. You could even explore the local area to see what it has to offer or try out some of the local takeaways.
Are You Interested In Moving House In The Belfast, Holywood, Dundonald, Newtownabbey, Bangor, or Lisburn areas?
If you are interested in buying or renting a house in Belfast or in the Holywood, Dundonald, Newtownabbey, Bangor and Lisburn areas, the team at Campbell and Co are here to help.
Please contact us for more information on the range of properties we have available to buy or rent and one of our team will be happy to assist you with your enquiry and take the stress out of finding the perfect property for you.