Mistakes To Avoid When Selling Your Home
Campbell & Co in Belfast & Lisburn
24th August 2022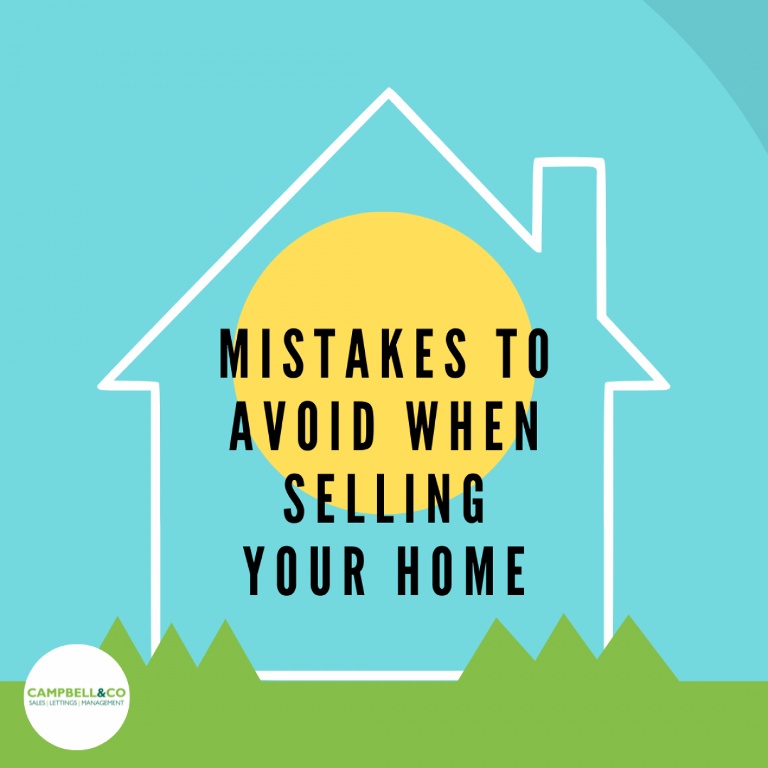 Deciding to sell your house can be both exciting and overwhelming especially if it's your first time experiencing this.
The team at Campbell and Co are here to help you during the house selling process by offering our expertise on property valuation, how to prepare your home for the market and achieving the best price possible.
Because of this, we've put together a list of potential mistakes to avoid when selling your home:
Don't Let Your Emotions Control You
Most people find when they start boxing up their belongings before moving house, their emotions and nostalgia set in and as a result, they hold onto anything and everything. They may even be tempted to change their minds about moving house in the first place as they don't want to leave memories behind and the thought of a new home becomes daunting.
It's normal to feel reluctant before moving house, especially if you're a first time seller.
During times of doubt, try and consider the reasons you wanted to sell your home in the first place. Perhaps it was because of a new job role? Or maybe you just wanted a change in scenery. Either way, try and view selling your home as a valuable investment opportunity onto another goal. In this way, you can distance yourself from these emotions and think rationally about why you chose to sell your home.
To Hire An Estate Agent Or Not To Hire An Estate Agent
To have an estate agent or not is one of the essential considerations many people who are thinking of selling their home will face. If you decide to enlist the help of an estate agent, they may receive a percentage of the total sale price for their services; however, selling your home by yourself can be daunting, and mistakes can happen quickly, especially if you are a first time seller.
Because of this, we recommend using the services of an estate agent to help you out with the sale. A trusted estate agent can put you on the housing market and can help you set a competitive selling price. In addition, they will help you promote your property effectively and efficiently and can advise on how to pitch your home to the best buyers. We find that the real value of an estate agent is their experience in maximising the price of the property can achieve by positioning the property correctly for the current market. They will know all the key terms that buyers are looking for in adverts and support with staging a home with professional photos which can also increase viewings. All of these factors can result in a hassle-free, quick and effective sale.
Most importantly, an estate agent will help you remain calm during the selling process, as they can advise on current market conditions and trends and can advise you on how best to deal with potential buyers and offers that come in.
Moreover, estate agents can help you highlight your home's value, features and advantages which in turn encourages potential buyers to pay the asking price you as the owner have set.
Underestimate or Overestimate Selling Price
Settling on a selling price is just as stressful as the selling process itself. It's also important to remember that as mentioned above, a portion of your final sale price will go to your letting agent for their contributions and services during the sale of your property.
To determine an accurate price to sell your home for, we recommend reviewing other properties in your area that are similar in size and what they have to offer to see how much they are selling for. Our team will also be able to help you make a decision on what price you should start with to jumpstart the selling process.
Choose The Perfect Time To Sell Your House
It's important to consider market trends before deciding to sell your house. The housing market moves in ebbs and flows but in general, the buying and selling movement slows down during the winter months as people appear to prioritise social events and spending time at home during these months.
Our team believes one of the best times to sell your home is when the weather warms up in the months from March-May.
Are You Interested In Selling Your Home?
If you are interested in selling your house in Belfast or in the Holywood, Dundonald, Newtownabbey, Bangor and Lisburn areas, the team at Campbell and Co are here to help.
Please contact us for more information on how we can help you with selling your home and one of our team will be happy to help you with your enquiry.